BEST PC

Cyber-Safety

Solution
"NO APPGUARD CUSTOMER HAS EVER REPORTED A BREACH"

(A SINGLE LICENSE CAN BE USED IN 3 PCS)
It Prevents ANY MALWARE Undetected by Your AntiVirus, From Launching.
No CPU-DRAINING

SCANS

or

UPDATE DOWNLOADS

that

SLOW

Your PC .
Automatically Adapts To Work With Changing Applications.

WINDOWS ONLY SOFTWARE
2-3 Times More Effective

Than Traditional Antivirus.
Simple To Install And Operate
LIMITED TIME OFFER OF

$69.99/YEAR (UP TO 3 PCS COVERED BY A SINGLE LICENSE

)
What does
AppGuard
Solo
do and why do I need it?
AppGuard automatically controls how certain applications are allowed to behave and prevents malware attacks without having to recognize them. Instead of hunting down the millions of new malware created per day, we've mapped out the types of things they need to do to get the stuff you care about. Things like stealing your personal data, controlling your microphone or camera, or encrypting your PC to hold your data for ransom. Only a limited number of actions can make those types of things happen, and AppGuard makes sure high risk applications in high risk situations can't do them.

Let AppGuard Solo Take Your PC and Family To A Safer Place Online
AppGuard Solo is a self-managed zero trust host-based endpoint protection agent for laptops and desktops. Its highly effective set and forget protection makes it ideal for small businesses and non-technical users. It coexists with nearly all other security agents yet requires none of the care and attention they do.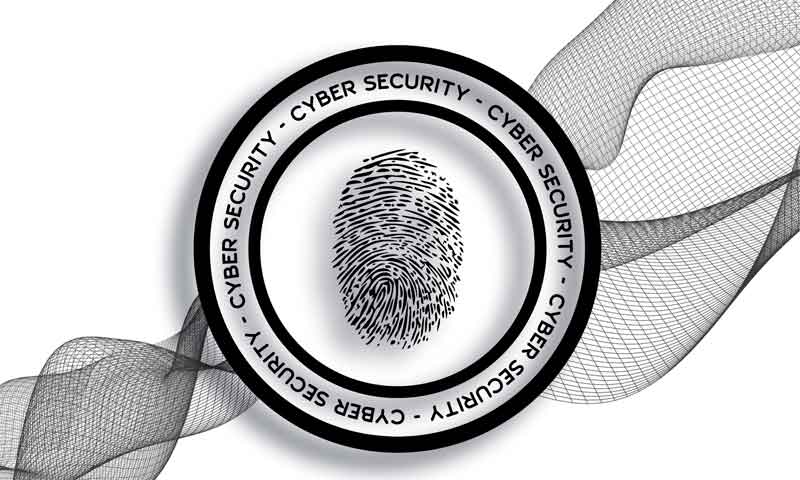 Antivirus is REACTIVE, AppGuard is PROACTIVE


Go From 25% Protection to 95% Protection!

None Of The Existing AntiVirus Can Stop Newly, Unknown, ZERO-DAY Malware. You Mistakenly Believe That You Are Cyber-Safe. YOU ARE NOT.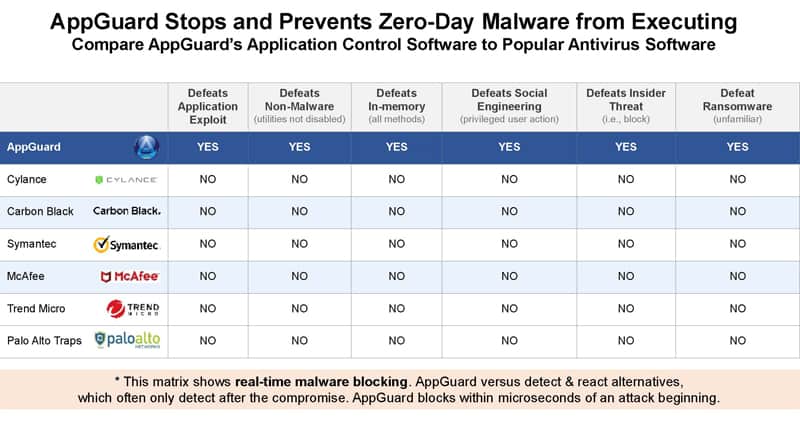 Try
AppGuard

Solo
A FREE MONTH THEN
$69.99/Year
LIMITED TIME OFFER OF $69.99 ($89.95 REGULAR PRICE)
AppGuard Works With, Complements And Fills The GAP In ANY AV Software.
Frequently Asked Questions
AppGuard is protecting and monitoring the computers and servers of some of the world's largest companies and government agencies down to individual computer owners with a Windows-based home computer or laptop.

What type of computers and servers does AppGuard protect?

AppGuard is designed to protect all Windows or Linux based computers or servers. AppGuard is not available on IOS Apple products because of their operating system secrecy policies.

What does AppGuard do and why do I need it?
AppGuard complements or replaces the common antivirus products you know and hate, and increases the safety of your PC by 2x-3x MORE than those tools. Antivirus is based on the idea that you can keep an updated list of malware files you've seen before, and then search, find and remove them from your system before they do damage. Well, when more than half of malware is not a "file" to be found, 1,000,000+ new are created daily, and most attacks execute immediately so finding them later won't help, you're left in a position where your security system only works about 25% of the time.



AppGuard, Inc. a Blue Planet company, offers award-winning cybersecurity protection for endpoints and servers for both businesses and small and medium-sized businesses. AppGuard's patented technology allows protection and isolation on any process generated by a risky application. The technology is not based on "Detect & React" but on "Prevention".
For more information check:
www.appguard.us
.